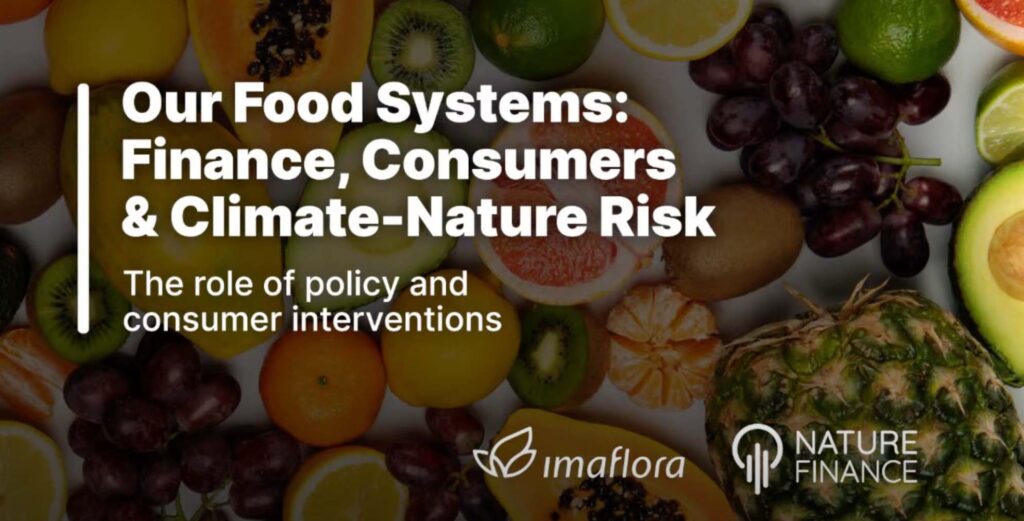 On the 19th of October: NatureFinance hosted an internationally focused webinar: Finance, Consumers & Climate-Nature Risk, where its three most recent food reports from the food finance nexus work were presented.
How can global finance be shaped to support the transition to an inclusive, healthy, sustainable food system? NatureFinance's Food Finance Nexus (FFN) work explores how our food system is impacted by the extent and ways in which the financial sector integrates nature and climate risks.
NatureFinance has developed a three-level approach: first, a global modelling exercise which provides key data on how it will impact food systems; second, a deep dive into Brazil which showcases how this will affect a particular jurisdiction and the role of policy intervention; third, insights on consumer behaviour and how to nudge it towards sustainable choices – a case study for Brazil. This mosaic approach can be replicated in other regions and scaled globally in future phases of work.
1. Finance, Nature and Food Systems – The impact of potential financial climate-nature risk repricing on normative outcomes for food systems
Key message: The 'policy-facilitated' transition improves social and economic outcomes in the agricultural and food system.
Jason Eis from Vivid Economics presented this work, and the focus was on the results of the GLOBAL modelling work and outcomes on Climate, Nature, Nutrition and Jobs
2. Finance, Nature and Food Systems – Opportunities for the Brazilian agri-food system
Key message: Six policy recommendations that are good for finance, nature and climate have been presented to both Brazilian election candidates -A summary of recommendations to the candidates in Brazil's election is also available in both Portuguese and English.
Alex Koberle presented the paper as ONE example of applying the Global model to a specific Jurisdiction.
Isabel Drigo commented on the six recommendations proposed for the Brazilian elections.
3. Finance, Nature and Food Systems – Consumers choosing sustainable food systems in Brazil
Key message: Consumers play a critical role in fostering necessary food system transitions and need to be placed at the centre of just and effective food system transformation.
For this study, Sarah Perreard (EA) presented consumer trends, diet shifts, and insights from the research carried out in Brazil, which points to the importance of labelling as an effective tool for mobilization. 
(Webinar in English with live Portuguese translation)