What's Next for Nature Markets?
Date: 3rd October 2023
Time : 17:00 to 18:30 CET
Location: Centre International de Conférences Genève – Room C and Online
To Register: click here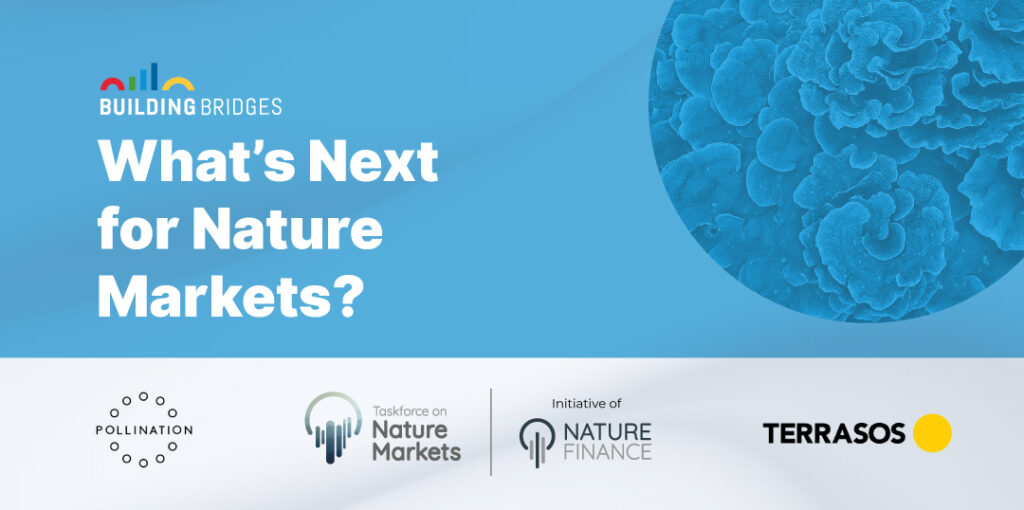 About the Event
This event will bring to life the Taskforce on Nature Markets' 7 ambitious recommendations for shaping a nature economy in the 21st century. Join us for a dynamic debate on how robust politically-backed governance frameworks can evolve alongside markets to prevent greenwashing. These debates – from food markets to biodiversity credits and the role of central banks – will provide a platform for competing international views and solutions from indigenous peoples, financial institutions, policy makers and NGO community.
Background
Nature markets are a subset of the economy where nature is specifically traded and valued. Nature markets make up $9.8 trillion worth of goods and services — equivalent to 10 percent of global GDP, including large markets such as food and emerging markets such as nature credits. To ensure they deliver on nature positive and equitable outcomes, it will be critical to improve market governance and infrastructure herein.
For this event, the Taskforce on Nature Markets will bring together a diverse range of active nature market stakeholders who will highlight and make actionable the governance recommendations launched on the wings of the Amazon Summit in Belém, Brazil.
The event will consist of three short debates, including:
Can emerging biodiversity credit markets provide an opportunity to shape nature markets with integrity?
Can we make food markets – the largest and most opaque nature markets – more accountable?
Can we get central banks to ensure financial actors, markets, and systems align with nature policies and commitments?
All three debates will bring together competing views, experiences and regional perspectives; the idea being to test the validity, scalability and relevance of the Taskforce on Nature Markets recommendations in different contexts and nature markets.
Speakers Include:
Alexander Barkawi (CEP, Founder & Director)
André Hoffmann (President, MAVA Foundation and Vice Chairman, Roche Holding)
José Pugas (JGP Asset & Wealth Management, Partner & Head of ESG)
Julie McCarthy (NatureFinance, Managing Director)
Joan Manda (UNDP Africa Sustainable Finance, Senior SDG Investment Advisor)
Mariana Sarmiento (Terrassos, CEO)
Mark Opel (Campaign for Nature, Finance Lead)
Matt Inbusch (World Business Council for Sustainable Development, Senior Manager, Nature & Land Use)
Stephanie Betts (AON, Global Climate Execution Team – Head of Alliances, Coalitions and Reporting)
Steve Lang (Pollination, Managing Director)
Join us in person at Building Bridges in Geneva, or online: Register Now