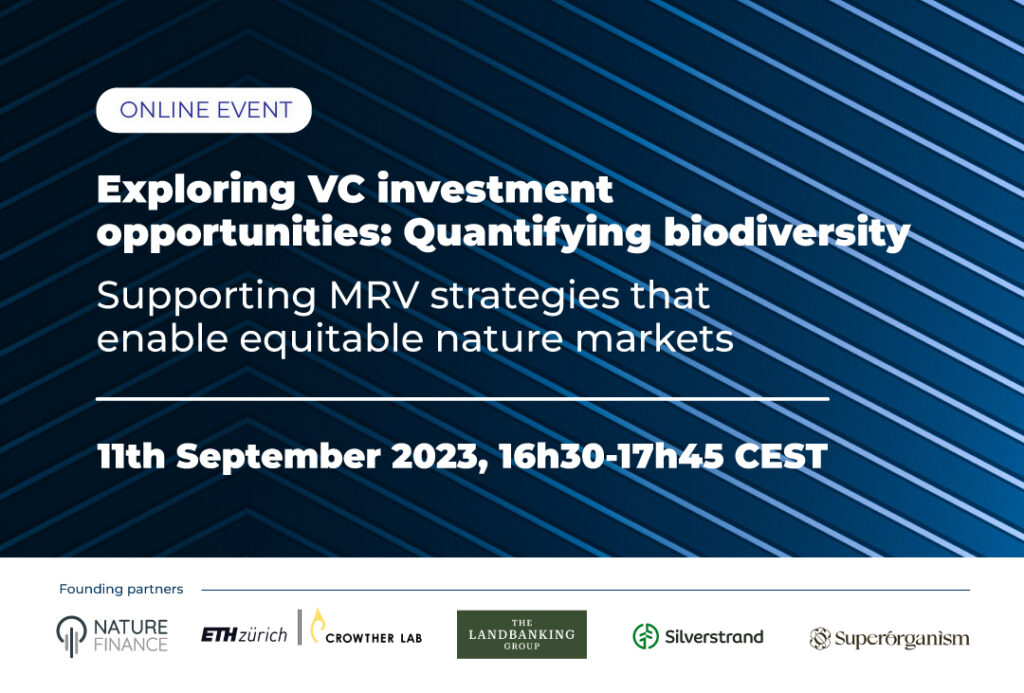 Exploring VC investment opportunities: Quantifying biodiversity
Supporting MRV strategies that enable equitable nature markets
11th September 2023 (16h30-17h45 CEST)
Join NatureFinance and partners in launching the Nature Investor Circle, a new initiative that will support early-stage investors seeking innovative nature-positive opportunities and strategies.
NatureFinance is joined in this initiative by a number of founding partners including The Landbanking Group, the Crowther Lab at ETH, Superorganism, and Silverstrand.
The Nature Investor Circle will expand and support a global community of early-stage investors in making smart investments in ventures with the potential to shape tomorrow's nature positive, equitable markets through:
Curated cross-cutting, thematic conversations, drawing on leaders in a range of fields.
Utilising frameworks, tools, and workshops to inform strategies and asset allocation, helping investors link climate friendly/ net zero investing to nature-positive outcomes/ risks/ opportunities.
Access to NatureFinance's large network, skills and knowledge core capacity.
Development of joint strategies, access to pipeline of opportunities, and pooled resources to deploy smart capital.
This event will be the first of a series of events exploring opportunities in nature-positive VC investments.
Join panelists from prominent businesses and organisations, including the Landbanking Group, the Crowther Lab at ETH, NatureFinance, rePlanet and Silverstrand to discuss innovative solutions for quantifying biodiversity that incorporate sophisticated metrics in nature-related financial mechanisms and transactions. 
Confirmed Speakers