NatureFinance is delighted to be hosting/cohosting two events at COP 15, on the 10th and 12th of December. These events will look at why the alignment of finance is critical to achieving global biodiversity ambitions and how organisations can track and align their financial flows to support nature-positive outcomes. We invite you to find out more below and join us in person at COP15 or via live stream.
___________________________________________________________________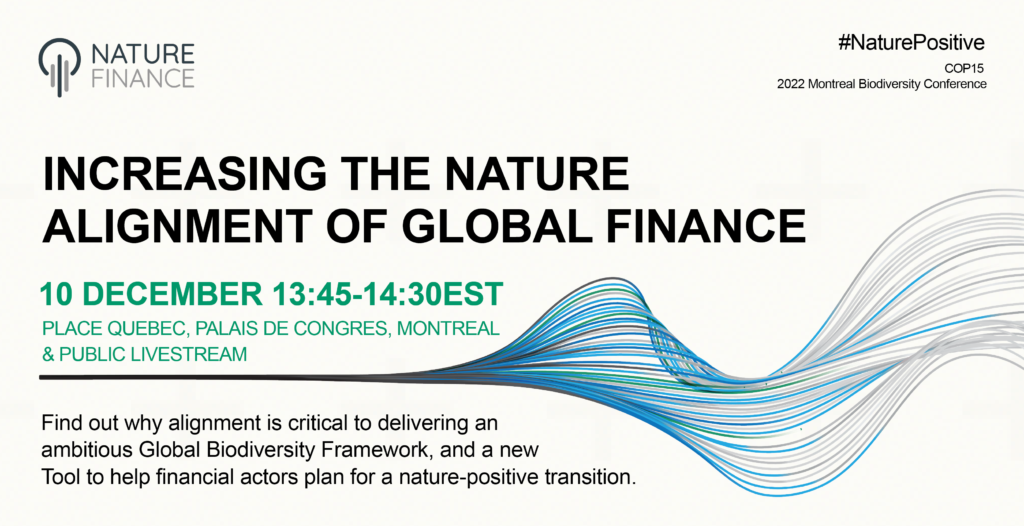 • 10th December: Increasing the Nature Alignment of Global Finance
Place Quebec in the Palais de Congrès, Montreal, 13:45- 14:30 EST Hosted by NatureFinance
Achieving the goals of an ambitious Post-2020 Global Biodiversity Framework requires not only significant mobilisation of resources but also the realignment of huge volumes of public and private finance towards nature positive, equitable outcomes. NatureFinance has developed a first of its kind Alignment Tool to allow national, international and corporate financial actors to assess their degree of alignment and support the changes needed to put them on the path to a nature positive, net zero future.
At this event, we will reveal the new Alignment tool, designed to help financial actors identify, measure and disclose how their financial flows are aligned with nature-positive outcomes.
Moderated by Simon Zadek, the session speakers include Elizabeth Mrema, Executive Secretary of the CBD Secretariat & TNFD Co-Chair, H.E. Steven Guilbeault, Minister of Environment and Climate Change, Canada, José Pugas, Head of ESG, JGP Asset Management, Tracey Cumming, Senior Technical Advisor, UNDP-BIOFIN, Vian Sharif, CEO, NatureAlpha and Jeremy Eppel, Principal, NatureFinance.
___________________________________________________________________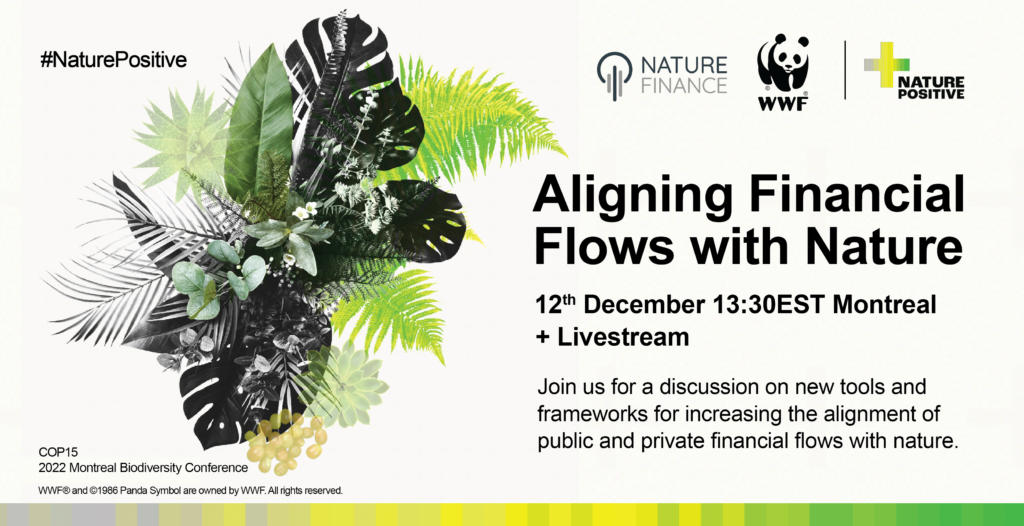 • 12th December: Aligning Financial Flows with Nature
Nature Positive Pavilion, 13:30-14:30 EST : Hosted by NatureFinance and WWF
This event will showcase new pathways for increasing the alignment of public and private financial flows with nature. Explore global Nature-Finance Alignment Tool being developed by NatureFinance to allow financial actors and governments to identify, measure and disclose their degree of alignment with nature. Take stock of the TNFD framework to guide companies and financial institutions to disclose their nature related risks and opportunities as well as the important role G7 countries have to play.
Moderated by Vian Sharif, CEO, NatureAlpha, the session will include Margaret Kuhlow, Global Finance Practice Leader, WWF International, Jeremy Eppel, Principal NatureFinance, Emily McKenzie, Technical Director, Taskforce on Nature Related Financial Disclosures (TNFD), Naoko Hamashima, Director, Office for Mainstreaming Biodiversity, Ministry of Environment, Japan and Takeshi Harada, Member of the Board of Directors, Development Bank of Japan.
For more information, click here.
___________________________________________________________________
We look forward to your presence at these sessions where, together, we can explore and discuss how financial alignment with nature initiatives can reshape the global economy.
For further information, please email joanna.omalley@naturefinance.net