This paper explores innovative pathways and new revenue streams for debt-distressed Low-and Middle-Income Countries (LMICs) to leverage their renewable natural capital as a way of enhancing creditworthiness and improving their socio-economic development. NatureFinance and the Sustainability-linked Sovereign Debt Hub (SSDH) present this paper as a first step and invitation to join us in igniting a wider ecosystem discussion on the subject.
About this paper – an invitation
In recent decades, the world has witnessed an accelerating growth of negative impacts on the natural environment and global society's economic health caused by intertwined climate and biodiversity crises. Both these crises are triggered and amplified by human activities and the inherent design flaws of the global financial markets.
Many of the biodiversity-rich countries – a great majority of which qualify as Low- and Middle-Income Countries (LMICs) – possess the crucial renewable natural resources required to halt and reverse the vicious circle of global warming and nature depletion. Yet, they are under unprecedented fiscal stress and diminished access to finance. According to the IMF, about 15 percent of low-income countries are already in debt distress and an additional 45 percent are at high risk of this.
Consequently, these countries are being locked out of international debt markets and are struggling to provide basic services to their citizens. The combination of these crises could quickly turn into a perpetual vicious cycle of poverty, socio-economic and political instability, posing both immediate and long-term risks to countries, their citizens and investors.
This paper identifies and explores some options these countries might have – including new revenue streams from natural assets, which could be developed and integrated into countries' debt management frameworks and/or specific sovereign debt instruments in order to enhance their credit ratings and thereby unlock their development potential.
It also proposes that a new approach and innovative mechanism to integrate the value of ecosystem services into sovereign debt markets is urgently required to halt the destruction of global biodiversity and reverse LMICs' downward debt spiral. The role sovereign debt can play in this game-changing endeavor is essential for a more inclusive and sustainable future for all.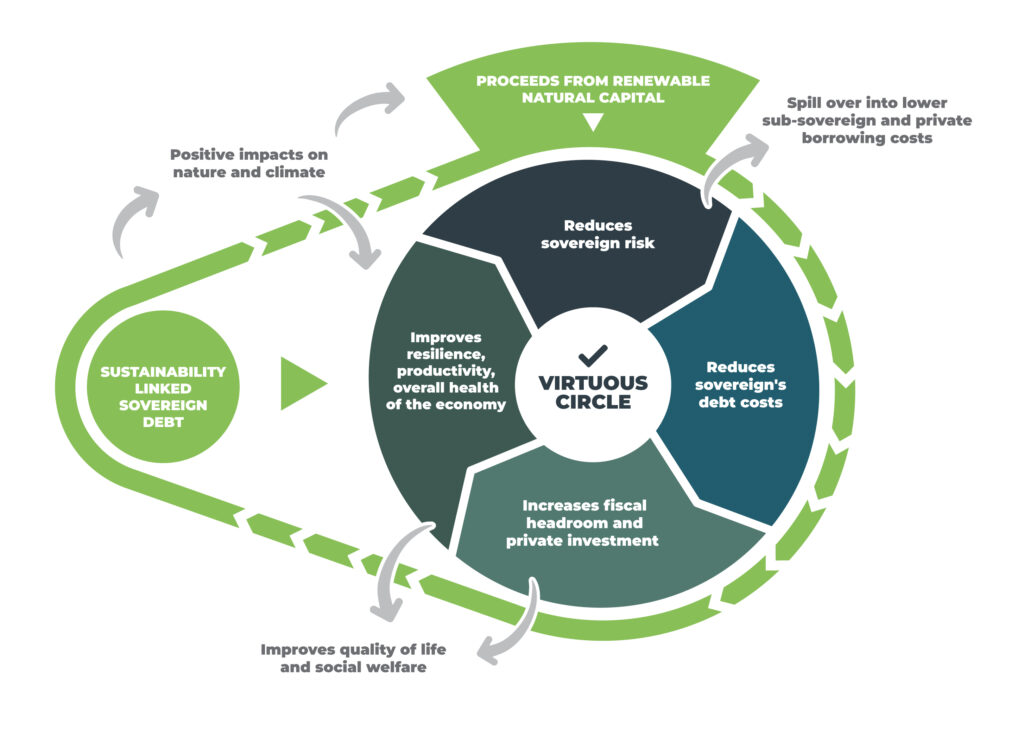 The central purpose of this paper is not to prescribe solutions but to ignite a wider discussion on potential pathways for LMICs to capitalise on their renewable natural capital in a sustainable manner. The goal being to enhance these countries' creditworthiness, support their public finances and provide better public services and prosperity to citizens.
If interested in further exploring this area and/ or specific subject, please do not hesitate to reach out.

Contact and more information:
For more information contact Gregor Pipan – Technical Lead, Sustainability-linked Sovereign Debt Hub: gregor.pipan@naturefinance.net