As policy makers, businesses and climate activists head to the climate conference (COP28) in the United Arab Emirates (UAE), the world's most important secret can no longer be kept: the world is heading into a future well beyond 1.5C increase in global temperatures (WMO, IEA, Stanford, UN, UK Met Office, Oxford).
Dismissing false hopes of staying below 1.5C is now a pre-condition for us to discard today's incremental efforts and shift to thinking and actioning the unthinkable. It is time to recognise the state we are in: with every additional fraction of a degree making a huge difference, the world is now on track for an average temperature increase of 2.4C this century.
A future beyond 1.5C will look very different from our current reality. The disruption and human cost, in terms of displacement, livelihood destruction and loss of life, will be unprecedented. Vulnerable communities, largely in developing countries, with inadequate resources to cope with – let alone avoid – the destruction, will be disproportionately impacted.
Failing to meet the target is not a reason for despair, but quite the reverse. Remaining attached to the 1.5C target has paradoxically become part of the problem.
Thinking and actioning the unthinkable
Pivoting to a 'beyond 1.5C' narrative does not guarantee success; however, it unlocks the unconventional, disruptive measures required to get a grip on the climate and nature crises. This is necessary to both contain temperature rises as well as start preparing our societies to survive in a disrupted future. Through this lens, this narrative shift can provide the necessary jolt to reject a 'business as usual' mindset in favour of interventions that lie outside of accepted norms – with approaches to refugees/ migrant citizenship, food security and finance providing real time examples.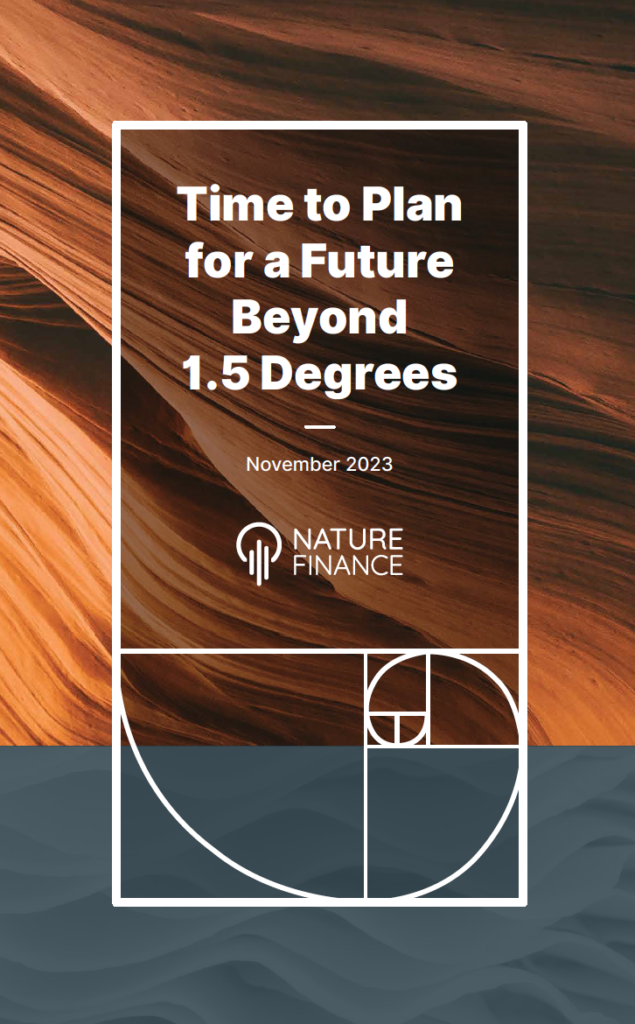 About this insight piece – An invitation to unlock disruptive action 
"Time to Plan for a Future Beyond 1.5 Degrees" reflects growing concerns and an on-going debate within NatureFinance, its partners and wider networks about what it might take to catalyse more disruptive actions commensurate with the scale of this crisis. The piece is a contribution to broader debate and practice in addressing the related challenges of climate, nature, and sustainable development.
We invite you to read, engage and explore what it means to accept and prepare for a reality beyond 1.5C.
The global community urgently needs a paradigm shift that transforms our collective mindset and actions towards more provocative and unconventional actions that reckon with the true level of disruption humanity will increasingly face.
Contact and more information
For more information or to share comments on the paper, contact Simon Zadek, Executive Director at NatureFinance: simon.zadek@naturefinance.net
For media and communications enquiries, contact Roberta Zandonai, Acting Communications Director at NatureFinance: roberta.zandonai@naturefinance.net