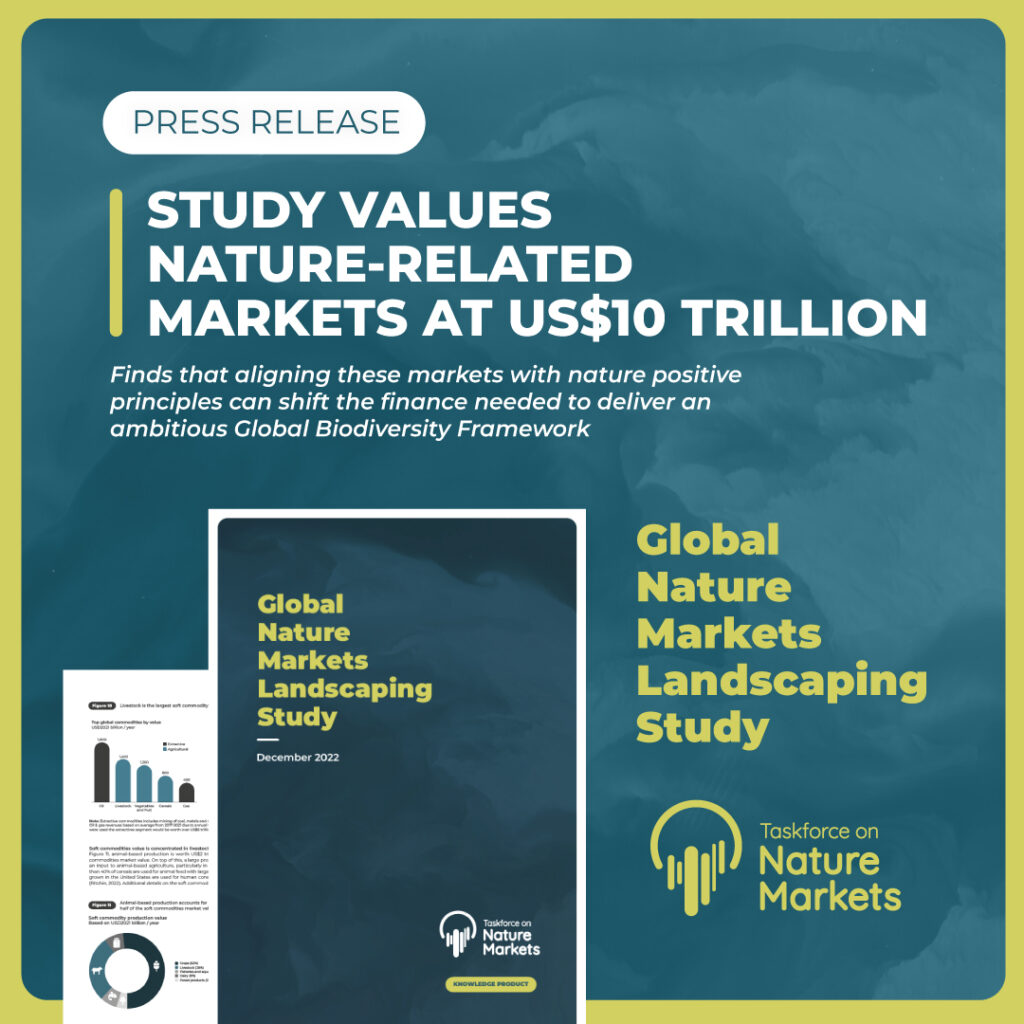 Tuesday 6 December, 2022: The Taskforce on Nature Markets, with knowledge partners Vivid Economics by McKinsey, has today released a new report presenting the fact base for the integration of nature markets into global efforts to help curb biodiversity loss and ecosystem degradation.
The 'Global Nature Markets Landscaping Study' has valued nature markets at almost US$10 trillion per year – equivalent to 11% of global GDP or the world's third largest economy, behind the United States and China.
‍
Nature markets are those markets that explicitly value and trade nature, from emerging markets such as carbon and biodiversity credits and nature liability insurance to established markets including conservation, nature-related tourism and soft commodities..
This first-of-its-kind taxonomy and global sizing of nature markets demonstrates the current economic value of 24 types of established and emerging nature markets.
Agriculture and livestock markets represent US$4.3 trillion alone. This makes them the largest nature market after extractive commodities (mining, minerals, oil and gas) – valued at US$4.6 trillion. Privately owned and market-accessible ecosystem assets are worth over US$8 trillion, nature credit markets are valued at over US$5 billion per year and wildlife tourism generates over US$260 billion annually.
Better governance of these nature markets can support our increasingly fragile ecosystems, the study finds, including through cross-jurisdictional governance and regulation. This could lead to improvements on the bottom line for both public and private sector entities.
These and other findings and opportunities laid out in the study add an important tool for global leaders at COP15, as they prepare to set out a vision for worldwide action to preserve and protect nature. A key challenge remains the limited funding available for mobilisation.
‍
"By redesigning nature markets to include nature positive instruments and policies in their governance, we can include a broader array of financial tools and move beyond Official Development Assistance (ODA) as the principal source of biodiversity funding." said Simon Zadek, Co-lead of the Taskforce Secretariat and Executive Director of NatureFinance.
"We have a unique opportunity to reshape the core logic of these markets so that nature positive, net zero and equitable outcomes are built into the way they operate. This is the objective being advanced by Taskforce on Nature Markets."

Tightened operating and assessment mechanisms could help reduce the cost and negative impact of biodiversity damage eg. stronger legal frameworks, due diligence requirements associated with deforestation or links between finance supply chains and nature crimes.
Jason Eis, Executive Director, Vivid Economics by McKinsey said:
"The complexity and importance of nature in markets, governance, infrastructure and pricing mechanisms requires closer scrutiny and thoughtful implementation. The key is market governance and market infrastructure including features like rules of trade, product and certification standards, taxes and subsidies which could potentially help drive incentives for companies to support nature in responsible ways."
This paper completes the first phase of the Taskforce on Nature Markets work in landscaping and promoting equitable, nature-positive, and net zero outcomes for the world economy and nature.
Notes to Editor:
The study builds on assertions made in the Taskforce's recent white paper Nature in an Era of Crises, and has revalued nature markets from the original US$7 trillion to the current US$9.8 trillion due to the inclusion of oil and gas. Even without the US$2.5tn oil and gas market, the remaining US$7.3 trillion value is still equivalent to the third largest global economy.
‍
The study is complemented by a new Nature-Finance Alignment Tool, scheduled for launch at COP15 on December 10th to help financial leaders from the public and private sectors better understand nature markets and identify how to ensure that the finance underpinning nature markets secures greater alignment with global nature goals. Early alignment tool assessments have analysed US$ 31 trillion of government, private, and development finance, indicating an aggregated average 13% of finance strongly aligned with nature.
‍
Simon Zadek, Co- will be speaking about this report at COP15 10th December at an event titled Scaling a Multi-Billion Dollar Biodiversity Market: Dream or Reality?Held at Place Quebec in the Palais de Congrès, Montreal, 08:30-10:00 EST For more information, click here. The event is hosted by Global Canopy, Deloitte and EY

About NatureFinance: NatureFinance is a Geneva-based, international not-for-profit dedicated to aligning global finance with equitable, nature positive outcomes and thereby accelerating climate goals and a just transition to sustainable development. Its work spans initiatives that are building and using biodiversity data to better manage nature related risks, developing purposeful nature markets, advancing financial innovations including in sovereign debt markets, strengthening nature related liabilities and citizen action on nature. https://www.naturefinance.net/
About the Taskforce on Nature Markets: The Taskforce has been established to shape a new generation of purposeful nature markets that deliver nature positive and equitable outco- mes. To deliver this objective, the Taskforce is advancing work across 6 interlinked areas: mapping approaches and experiences, building awareness of opportunities/risks, growing a community of practitioners, encouraging innovation, advancing supportive governance arrangements and launching pathfinder initiatives to scale the implementation of recommended approaches. The Taskforce is an initiative of, and hosted by NatureFinance, and is supported by the MAVA Foundation. www.naturemarkets.net