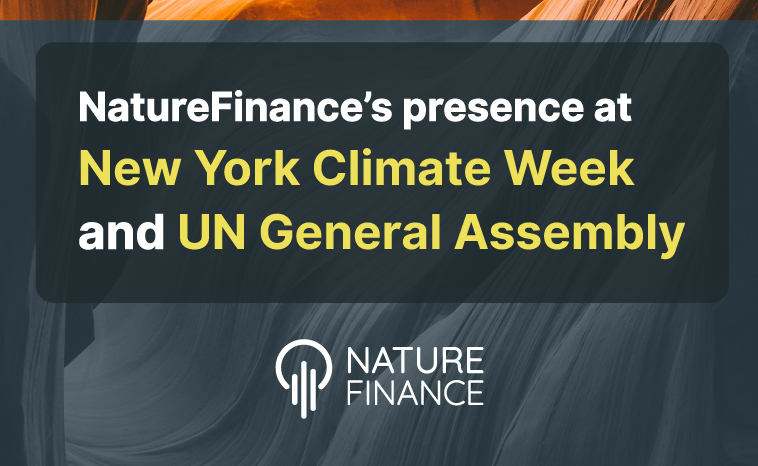 The United Nations General Assembly (UNGA) will convene in New York from September 12th to 30th, coinciding with New York Climate Week (NYCW) which takes place from September 17th to 24th, 2023. NatureFinance will have a delegation on-site, engaging in various events during this time.
Below, you will find the most up-to-date details of these events, with this page being updated on a regular basis in the run-up to UNGA/NYCW.
Notably, NatureFinance will co-host an event with TNFD on the 20th of September.
NatureFinance UNGA/NYCW Speaking Appointments
___________________________________________________________________
• 18th September: ESG DATA: THE BEDROCK FOR AMBITION, CREDIBILITY AND IMPLEMENTATION
55 Water Street, 37th Floor, New York, NY, 10041 | 10:00-11:30 ET
This urgency for collective and transformative action places ESG data as an integral component of the global climate solution. The more we can develop data to be consistent, comparable, and science-based, the more we can accurately inform and enhance the allocation of capital needed to accelerate the transition to a 1.5°, resilient and nature-positive economy, while continually pushing the boundaries to enhance ambition and accountability for private sector actors.
In this session, CDP, FoSDA and S&P Global will host a dialogue on how ESG data represents the much-needed bedrock for the UN climate agenda, driving ambition of business actions, ensuring credibility of commitments and paving the way towards accountability. The participants will discuss progress to date in the ESG data ecosystem and shed light on challenges related to data gaps, holes, and access.
Co-Hosted by CDP, FoSDA and S&P Global
NatureFinance Speaker: Simon Zadek
___________________________________________________________________
• 20th September: Developments in nature scenarios
Nature Positive Hub (Convene, 101 Park Avenue, NYC) | 13:30 – 15:00 ET
Co-Hosted by NatureFinance and TNFD
Get up to date with the newest thinking and progress around nature scenarios and their use in nature-related reporting and management. Participants of this session will understand: Nature scenarios at a theoretical level and how they are essential to managing nature-related issues, How nature scenarios are used within / to support the TNFD recommendations, How companies are already using and implementing nature scenarios practically, The need for an integrated climate-nature scenarios framework to correctly identify risks.
To register, click here.
Co-Hosted by NatureFinance and TNFD
NatureFinance Speaker: Julie McCarthy
___________________________________________________________________
• 22nd September: Unlocking Amazon's future
Lightbox (248 W 37th St, NY 10018) | 10:15 – 11:00 ET
Casa Amazônia is an immersive space located in Times Square where the general public will have the opportunity to hear about the Amazon by the Amazonians. There will be artistic interventions from Amazon artists, high-level panel discussions about the region and networking with actors interested in the Amazon cause. In partnership with the Government of the State of Pará, Casa Amazônia will feature multimedia projections through which the spectator will be transported to the poignancy of the Amazon region (the center of discussions on climate change and host of COP 30 in 2025). Debates with preeminent Amazonians (politicians, scientists, activists, and raising voices) and high-level academics about crucial topics for the preservation of the region, such as bioeconomy, how to finance the just transition, and climate justice. During Casa Amazônia, a Round Table, 'Unlocking the future of the Amazon' will take place with Governor Helder Barbalho (Governor of Pará and President of the consortium of governors of the legal Amazon) Juan Pablo Bonilla (Manager, Climate Change and Sustainable Development Sector at IDB) and NatureFinance's Marcelo Furtado as moderator.
To register, click here.
Co-Hosted by Columbia Global Center and the Government of Pará
NatureFinance Speaker: Marcelo Furtado
__________________________________________________________________
• 28th September: Looking forward: Scaling nature-based solutions investments
Webinar | 16:00 – 17:00 CET
Nature-based solutions (NbS) are actions to protect, sustainably manage and restore natural and modified ecosystems that address societal challenges effectively and adaptively, simultaneously benefiting people and nature. While the use of NbS is specifically being called for in targets 8 and 11 of the Kunming-Montreal Global Biodiversity Framework, it is estimated that annual investments into NbS must rise to USD 674 billion by 2050, in order for the world to limit climate change to below 1.5°C, halt biodiversity loss and achieve land degradation neutrality.
As the concluding session of this webinar series, this event will highlight learnings from previous sessions, and explore the future of NbS investing in the private financial sector. Speakers from different types of organisations, who have extensive experience on the topic, will share their perspectives, and highlight trends and innovations that help scale NbS investments.
To register, click here.
Hosted by UNEP FI
NatureFinance Speaker: Hiba Larsson
___________________________________________________________________
For further information, please contact joanna.omalley@naturefinance.net