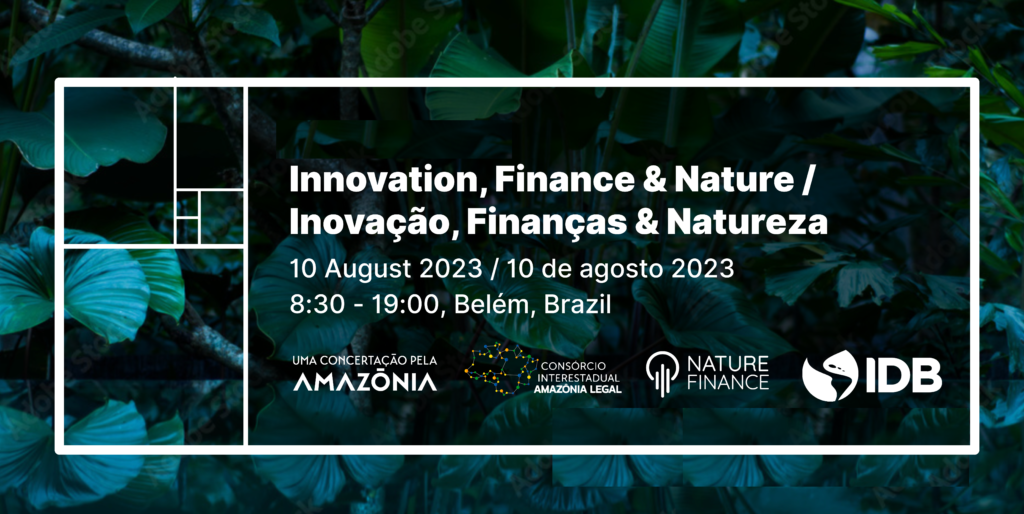 Innovation, Finance & Nature | Inovação, Finanças & Natureza
10th August '23, 8:30-19:00, Teatro Maria Sylvia Nunes, Belém, Brazil
Registration from 8:00 am to 8:30 am
Join us for "Innovation, Finance & Nature," a groundbreaking event presented by the Amazônia Legal Consortium, NatureFinance, Uma Concertação pela Amazônia, and the Inter-American Development Bank (IDB). Taking place on August 10, 2023, this event explores the bioeconomy in the context of the Amazon Summit. Distinguished panels will discuss technology, finance, and investment strategies for the Amazon, while the Final Report by the Taskforce on Nature Markets will be launched. Attendees include representatives from governments, private sector, financial institutions, philanthropy organisations, NGOs, and academia. Don't miss this opportunity to delve into the bioeconomy and its connections to the G20 and COP 30 topics.
---
10 de agosto de 2023, 8:30-19:00, Teatro Maria Sylvia Nunes, Belém, Brasil
Credenciamento será das 8h às 8h30
Junte-se a nós para o evento "Inovação, Finanças e Natureza", organizado pelo Consórcio Amazônia Legal, NatureFinance, Uma Concertação pela Amazônia e Banco Interamericano de Desenvolvimento (BID). O evento, voltado para a bioeconomia no contexto da Cúpula da Amazônia, reunirá convidados renomados para um dia inteiro de debates sobre tecnologia, finanças e estratégias de investimento para a Amazônia. Além disso, a Força-Tarefa sobre Mercados da Natureza fará o lançamento global das suas recomendações finais. Participarão representantes do governo, setor privado, instituições financeiras, organizações filantrópicas, ONGs e academias. Não perca a oportunidade de explorar a bioeconomia e suas conexões com os temas do G20 e da COP 30.
---