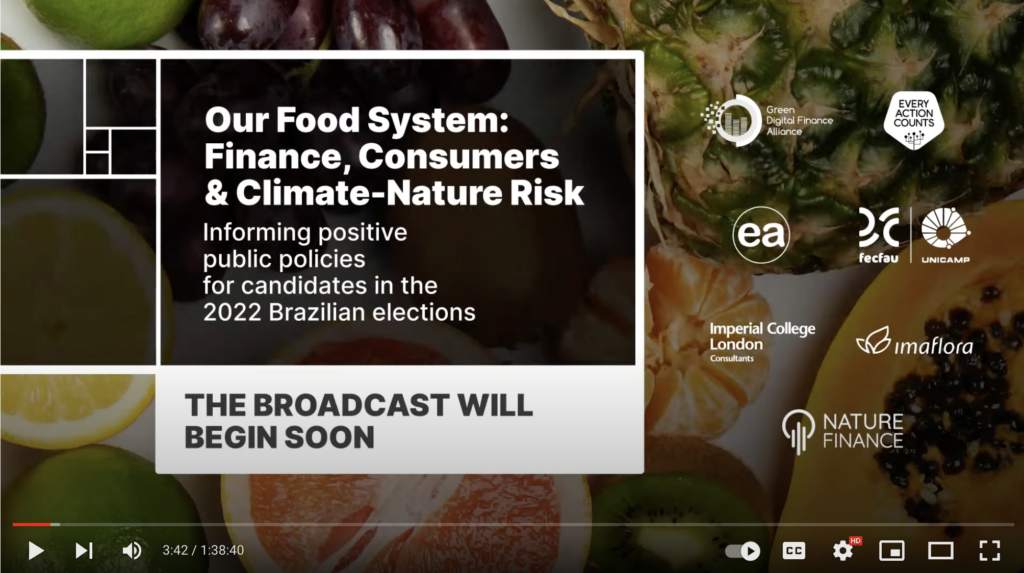 WATCH: Click here to watch the webinar from the 28th of September -Informing positive public policies for candidates in the 2022 Brazilian elections.
The second phase of NatureFinance's Food Finance Nexus (FFN) work builds on the findings of the first phase: the fact that the food system will be impacted by the extent and ways in which the financial sector integrates nature and climate risks.
As with energy and carbon, integrating climate risk strands some assets and makes others financially more attractive. NatureFinance has developed a three-level approach: first, a global modelling exercise will provide key data on how it will impact food systems; second, a deep dive in Brazil will showcase how this will impact a precise jurisdiction, and the role of policy intervention; third, insights on Brazilian consumer behaviour and how to nudge it towards sustainable choices. This mosaic approach can be replicated in other regions and scaled globally in future phases of work.
Webinar 28th September, 14:00 GMT: Informing positive public policies for candidates in the 2022 Brazilian elections. Our food system is affected by how the financial sector integrates nature and climate risks. Join us for a deep dive into how these risks impact food systems in Brazil. The event will also explore the role of policy intervention as well as insights on Brazilian consumer behavior. (Webinar in Portuguese with live English translation)