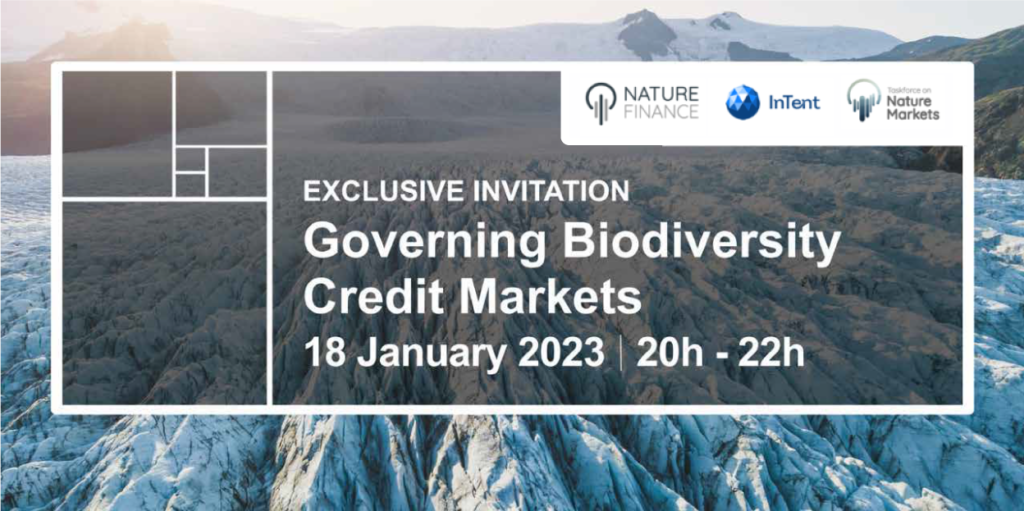 Join NatureFinance and InTent to discuss next steps in advancing a governance model for biodiversity credit markets that secures equitable, nature positive outcomes.

Wednesday, 18 January 2023, 20.00–22.00
NatureFinance and InTent invite you to join a session highlighting progress and outlining possible ways forward in advancing a robust, effective governance model for biodiversity credit markets that secures equitable, nature positive outcomes. Biodiversity credit markets are on the rise, with an impressive range of initiatives showcased at COP15 in Montreal. The spotlight is increasingly on all-important definitions of biodiversity credits and their verifiability, including the use of standard certification approaches and digital platforms to increase traceability. The need for high integrity credit markets is also generating debate including advocacy for broader governance innovations- from proposals for high-level principles to radical disclosure, regulatory arrangements, and new legal frameworks. This dinner event will focus on practical measures, framed by the work being advanced by many actors including the high level Taskforce on Nature Markets.
Key Questions
The session will contribute to advancing robust, effective governance of biodiversity credit markets that can secure equitable, nature positive outcomes by addressing key design questions including (but not restricted to):
Should biodiversity credit markets only be established with measurable public purpose(s), and if so how can 'nature positive' and 'equitable' outcomes be defined and measured?
Should some but not other aspects of biodiversity be tradable through credit markets?
Should there be one core definition for 'biodiversity credits', or unlike carbon should there be a multiplicity of approaches?
Should biodiversity credit markets allow for offsetting and/or secondary trading, and if so on what basis?
Should market transparency and accountability cover all or only some trading information, and should it relate to the trader as well as the traded credit?
Should digital market infrastructure be used, such as blockchain and tokenization, and if so with what limits and/or risks in mind?
Should market rules draw on conventional environmental and financial legal and regulatory arrangements, or are more radical approaches needed such as the Rights of Nature?
Should there be an international oversight body for biodiversity credit markets, or is a 'club-like' approach needed that accounts for biodiversity, jurisdictional, culture and market diversity?
SPEAKERS