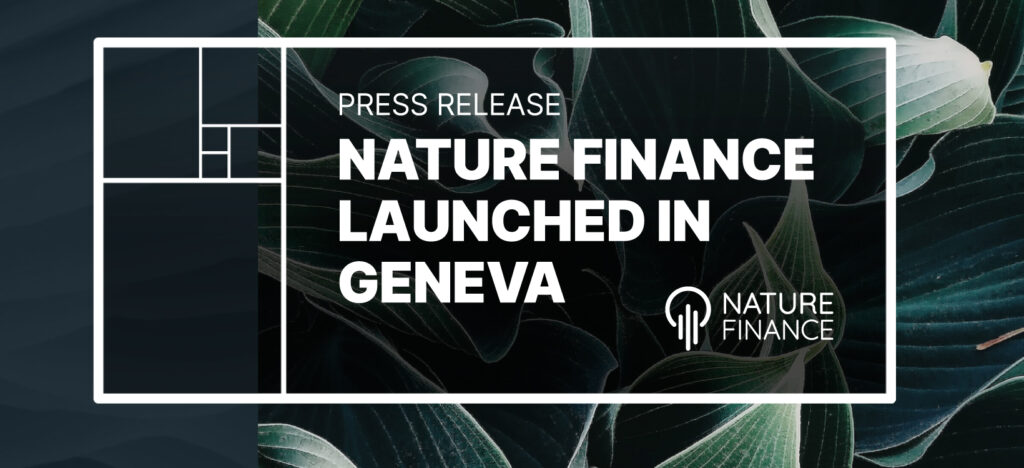 News coverage: ESG Investor Live, ESG Clarity, Business Green, Finews.ch, Tippinpoint, Neue Schweizer Zeitung, Press24, Greendustria, ESG Telegraph, Tech Investor News, Le Temps
5 October , 2022– Finance for Biodiversity relaunched today as Geneva-based NatureFinance with a showcase of projects placing nature at the heart of global finance, from sovereign debt markets to early stage investor ecosytems, risk-related metrics, food system transition and anti-money laundering.
"Tackling climate change and reversing nature's endangered state needs a reset of the nexus between nature and finance in shaping tomorrow's businesses and economies and the distribution of their economic benefits."
Against this backdrop. NatureFinance was officially launched in Geneva today, at the annual Building Bridges Sustainable Finance Summit.
NatureFinance will take forward the work of Finance for Biodiversity (F4B), which has helped to catlyze action on how investors count nature-related risks, natural capital being valued in sovereign debt markets, and broaden nature crime's visibility to the financial crimes community.
Financial institutions have started paying attention to their alignment with the Paris Agreement's targets on climate change but nature remains immaterial in most financial decision-making.
NatureFinance, recognising the inter-linked challenge of soverign debt distress, climate and nature, and the need to channel investment into the just transition, is hosting the Sustainability-linked Sovereign Debt Hub, recently launched in Cairo at the Pre-COP27 African Finance Ministerial, supported by numerous development finance institutions and key investor groups.
NatureFinance today announced a Catalytic Investment Facility that will itself invest, and crowd in other investments in early stage businesses that have the potential to shape tomorrow's equitable, nature positive markets. With seed funding from the Mava Foundation, a philanthropic foundation which invests in people and nature to support nature conservation, the Facility is scheduled to rollout in 2023.
NatureFinance's keystone role in developing a pipeline of nature positive businesses will be further enhanced by the forthcoming launch of a Nature Investor Circle that will convene, inform and shape collaborative action of early stage investors in nature positive businesses, and its on-going collaboration with the Earthshot Prize Foundation, designed to find game-changing solutions to our greatest environmental challenges.
Transforming the nature finance nexus requires data that bridges the worlds of science and markets. In addition to its support of the Taskforce on Nature-related Financial Disclosure (TFND), NatureFinance is proud to announce the Biodiversity Index Partnership (BIP), a partnership between NatureFinance and SEED, a non-profit initiative of the Crowther Lab at ETH Zurich, to advance market adoption of a world class biodiversity index designed to capture a much fuller range of the true value of biodiversity.
"SEED's Index will be able to quantify the full extent of genetic, species and ecosystem biocomplexity across scales. This is game changing for policy and financial mechanisms to incentivize nature positive outcomes".
Advancing the need for purposeful, effectively governed nature markets, NatureFinance will continue to support the ground-breaking Taskforce on Nature Markets, with its focus on improving the governance of biodiversity credit markets and transparency of soft commodity markets at a time of escalating food prices. This work exends to the design of public policy to support climate and nature positive outcomes for investors in food systems.
Global nature markets, including voluntary carbon credits, conservation and soft commodities, already produce and trade more than US$7 trillion worth of goods and services annually, equivalent tothe 3rd largest economy after the US and China, according to a recent Taskforce paper.
NatureFinance's mission to "align global finance with equitable nature outcomes" recognises that resetting the nature finance nexus is as much about people as well as the planet, including indigenous peoples and local communities. This is reflected in all its work, notably on nature crimes and the governance of nature markets.
Resetting the nature finance nexus goes to the core of building an inclusive, sustainable world", explains Dr Simon Zadek, Executive Director of NatureFinance, "we believe that Geneva and more broadly Switzerland offers a unique international ecosystem offinancial, corporate, technological, policy and civil actors to enable it to become a global hub of excellence in nature finance."
In welcoming NatureFinance to Geneva, Fabienne Fischer, Geneva State Councillor, noted the Canton's commitment to being a leading player in the emerging nature-finance field.
"Nature finance is a more recent area of focus, but it is emerging and growing very rapidly. In this context, I think the establishment of NatureFinance in Geneva is a significant opportunity to mainstream the taking into account of nature risk at a faster pace. The stakes are incredibly high and there is no time to lose."

ENDS
Notes to editor:
NatureFinance website : www.naturefinance.net
NatureFinance launch livestream: https://www.naturefinance.net/#launch
For more information, or to speak with NatureFinance please contact:
Ceandra Faria, Head of Communications, NatureFinance
Tel. +33664085596, ceandra.faria@naturefinance.net

About NatureFinance
NatureFinance is a Geneva-based, international not-for-profit dedicated to aligning global finance with equitable, nature positive outcomes and thereby accelerating climate goals and a just transition to sustainable development. Its work spans initiatives that are building and using biodiversity data to better manage nature related risks, developing purposeful nature markets, advancing financial innovations including in soverign debt markets, strengthening nature related liabilities and citizen action on nature.

Key Data Points: