The world currently has a substantial problem with high levels of debt – the total global debt has surpassed $300 trillion in 2021, with 80% of new debt burden in 2021 coming from emerging markets, where total debt is now approaching $100 trillion.
Unless something is done to address the world's debt, food security and energy security issues, as well as socio-economic and political unrest, are set to increase significantly.
Today's sovereign debt markets are not fit for purpose, as they fail to take adequate account of the sustainability risks which increasingly are having a material impact on countries' economic growth and resilience.
Vulnerable nations are excluded from accessing the affordable capital and investment that is urgently needed to create sustainable economic growth and adequate fiscal space thus leading to a downward spiral of debt defaults, debt restructuring and further nature degradation.
The Sustainability-linked Sovereign Debt Hub was created to assist the development and scaling of sustainability-linked sovereign debt. The Hub is an inclusive cooperative space, bringing together actors from the entire spectrum of the sovereign sustainability-linked bonds universe. It is also a knowledge platform to expand and spread the expertise on integrating nature and climate into the sovereign debt markets.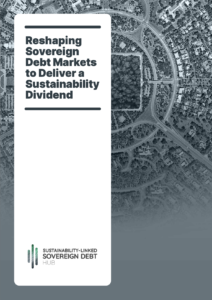 To find out more, click on the image above or visit the Hub's website.